Skiing

Formigal

Catalonia in the Pyrenees
Skiing Formigal Ski resort itself occupies four different high mountain valleys, defining three sectors:
Tres Hombres (Crestas), Izas, Anayet and El Portalet.
Formigal

.

The four valleys are linked by spanking new high-speed chairlifts, supplemented by drags to the higher reaches.

Runs are, undeniably, short by Alpine standards — the vertical drop is a meagre 750 metres.
Most of the skiing is on intermediate-friendly reds and blacks.

We discovered a few startlingly steep runs at the end of El Portalet, the furthest-flung valley.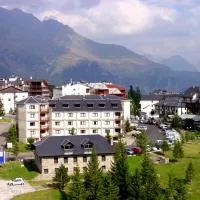 300 m from centreIn the heart of Formigal's ski resort, just 500 metres away from the ski lifts, the hotel is ideal for a relaxing and convenient ski break.
Hotel Saliecho
0.4 km from Formigal city centre
Score from 111 reviews:
Very good

8.2
There are 2 people looking at this hotel.
Located in Aragón's Formigal Ski Resort, Hotel Saliecho offers a free spa, gym and heated swimming pools. In summer, guests can choose from a range of free guided excursions. More…
Formigal Facts
Formigal has 137 km (85 mi) of marked pistes.
The highest point is Tres Hombres peak at 2,250 m (7,380 ft) above sea level, with a vertical drop of 740 m (2,430 ft); the majority of its slopes face north and northeast.
The base of the resort is a purpose-built town which includes several hotels and apartments at 1,500 m (4,920 ft).
From there an 8-seat chairlift provides the main access for the resort.
Prior to 2004 this access was provided by a gondola, informally called "El huevo" (The egg) by its users.
The resort itself occupies four different high mountain valleys, defining three sectors:
Tres Hombres (Crestas), Izas, Anayet and El Portalet. Each valley is accessible by car and a bus service, with a parking and service area at its base from where the chair lifts depart.
Nearest Airports to Skiing Formigal Ski resort

The nearest airports are Huesca (66 miles, 1hour 30 mins drive), Pau (54 miles, 1 hour 45 min drive), Lourdes ( 55 miles, 1 hour 35 min), Zaragoza (109 miles, 2 hours 30 min drive), Toulouse (165 miles, 3 hours 15 minutes drive), Pamplona (100 miles, 3 hour drive) and Barcelona (225 miles, 5 hours 30 min drive)
Skiing Formigal
Valdeon Blue Cheese from Leon Valdeon one of the best known Spanish blue cheeses, from Leon, high in the Picos de Europa mountains. (D.O. Valdeon) Made from a mixture of unpasteurised goat, cows and ewes milk.
Optimised April 14 P 92 W 100
Spain Info
San Francisco De Asis, Urb Marina, San Fulgencio, 03177, Alicante, Spain
Save
Save
Save
Site Disclaimer
Disclaimer: Whilst every effort has been made to provide accurate information, no liability will be accepted for misinterpretation, misrepresentation, errors or omissions - the information provided by our Websites is for use as a guide only and is issued in good faith as information..
All photographs images and video material is subject to the understanding that as they are in the public domain they can be used and shared as seen to be appropriate and unless they show a sign that they are covered by copyright law. This also covers Social media operations.
1999---2021